For the past week a groundbreaking event is happening with world renowned western practitioner and scholar, Dr B Alan Wallace conducting a one week course on Shamatha meditation here at Dongyu Gatsal Ling Nunnery.
"Such a course of instruction and practice in shamatha is rarely given within the Tibetan tradition and will greatly benefit our nuns…. since they usually do not receive step-by-step guidance – especially not in their own language".
Jetsunma Tenzin Palmo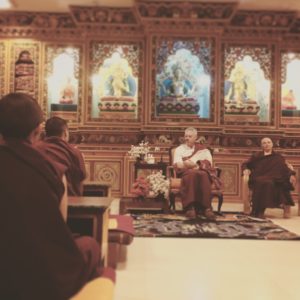 Ordained by the Dalai Lama after spending 14 years training as a Buddhist monk, Alan Wallace pHD (Stanford Uni) has dedicated the last 40 years to philosophical study, Buddhism and to teaching. His translations, popular publications, talks, academic essays give testimony to his fervent desire to learn and this he instills in his students.
To enable other Tibetan speakers access these teachings and meditation instructions, UK based charity, Meridian Trust have traveled with Alan to film, edit and produce video and audio of the proceedings.
They have a 33 years history of filming Buddhist talks, teachings and events and are the Dalai Lama's choice of official film crew on many of his UK and European visits. Professional Camerawoman Kaska Phunsok has skillfully filmed, edited and produced many teachings and workshops with both Alan Wallace and Jetsumna over the last 5 years.
We encourage anyone who is interested, to visit the Meridian Trust website to access this precious footage and indeed to see the many wonderful teachings they have preserved for general access.
Meridian Trust rely entirely upon generosity and we encourage you to support their wonderful mission to preserve the rich dharma jewel for future generations. You can offer here  thank you for taking care.