Deer Park, H.P., India
March 18 & 19, 2017
Deer Park Institute
Bir,
District Kangra,
Himachal Pradesh
India 176077
Teaching on Mahamudra.
Jetsunma will offer Commentary on The Oral Instructions of Refined Gold.
This text was written by the 3rd Khamtrul Rinpoche, Ngawang Kunga Tenzin in the 17th century.
In it he covers the path from contemplation on impermanence and the precious human body through to the Mahamudra practices of emptiness and clarity.
His advice on maintaining awareness in all activities is especially inspiring and helpful. This is a concise meditation manual relevant for all of us who sincerely wish to practise.
For more information, check:
Tushita Meditation Centre, H.P., India
April 18 & 19, 2017
Tushita Meditation Centre
McLeod Ganj,
Dharamsala,
Himachal Pradesh,
India 176219
The Wheel Of Life
Jetsunma will offer Commentary on this important Buddhist Teaching.
For more information, check: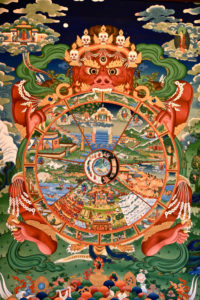 Hong Kong
June 22 to 28, 2017
Jetsunma will participate in the 15th Sakyadhita International Conference
"Contemporary Buddhist Women: Contemplation, Cultural Exchange & Social Action"
For more information, check:
No other events are currently planned. Check back another time for potential updates.